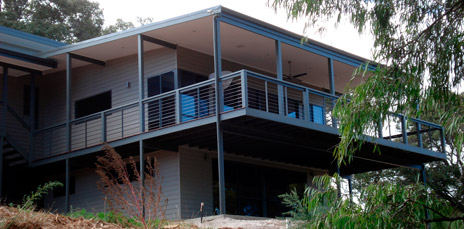 As featured on the Stayz website: www.stayz.com.au/61084
Completed: 2008
Sustainability: Solar passive design and materials, Water saving plumbing fixtures, Enviro tanks for recycled water, Rain water tank, Solar Photovoltaic hot water system, recycled timber flooring.
This beautiful two storey home is situated just outside of Yallingup on a stunning 3.5 acre bush block. 
A holiday home built for 2 families with a mirror effect, Designed by Mike, this home has both sides with equal number of rooms with a central living area and down stairs retreat for the children. From every angle, this home is at one with the environment, with the design and choice of materials aimed at solar passive aspect. The home has water saving plumbing fixtures, envirotanks for recycled water and a photovoltaic hot water system.  Recycled timber for the main living area floorboards gives the home a unique character of its own.
Set into a hill side of the Millbrook estate, circled by trees, this timber framed home blends perfectly into the undulating Yallingup landscape. We ensured our clients understood their vision before site works began, by coaxing them up a towering gum tree where we had marked the planned level of the balcony, giving the clients an opportunity to preview the most impressive facet of the home, the view. To help the clients with the interior design of the home, Rachelle collected all the colours of the earth from the cut into the hillside during earth works, placed into a jar showing all the different levels of colours which was taken into consideration when choosing colours and tones of the building including the interior decorating.
This holiday home is now available for weekend retreats, away from the hustle and bustle of city living, it provides serenity at its best.  View the Stayz listing for more information.