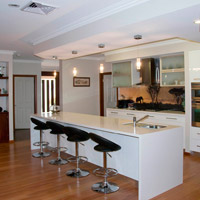 Mike O'Neil Building is a family owned and operated business based in Busselton, Western Australia.  We pride ourselves in a 'hands on' approach, where you deal directly with the builder himself.
Mike has been building in the South West for the past 23 yrs, and specialises in:
Alternative materials that blend with the local landscape
Designing and building homes with unique style and character
Renovating existing homes to suit the individuals lifestyle and budget
We take into consideration all environmental factors when designing the client's home, which allows us to create a home that is in harmony with the landscape and surrounding environment.
A critical focus of our Business is to ensure homes are not only aesthetically appealing but have minimal impact on the environment.
We offer personalised service between the owner and the builder, communicating throughout the construction to ensure the owner feels apart of the project, working with any ideas and suggestions the client may have.  Client input is valuable to us, and the satisfaction of watching the clients ideas turn into reality, is truly rewarding.
Quality of construction and overall presentation are very important to us, and we take great pride in our workmanship to award winning standards.  With a great team of local trades working on the build, Mike ensures he is on the job working with the trades to keep the progress of the build running smoothly and efficiently.
To ensure the integrity of the whole job from start to finish, we only use trusted and reliable subcontractors and trades, most of whom have been with us for over 10 years.
When building with Mike O'Neil, you will experience a local Builder who has earned a great reputation for being meticulous and thorough, as Mike likes to take time to do things right.  He takes pride in his work and this shows in the quality of the workmanship in every home he builds.  
Service locations: Dunsborough , Yallingup , etc.